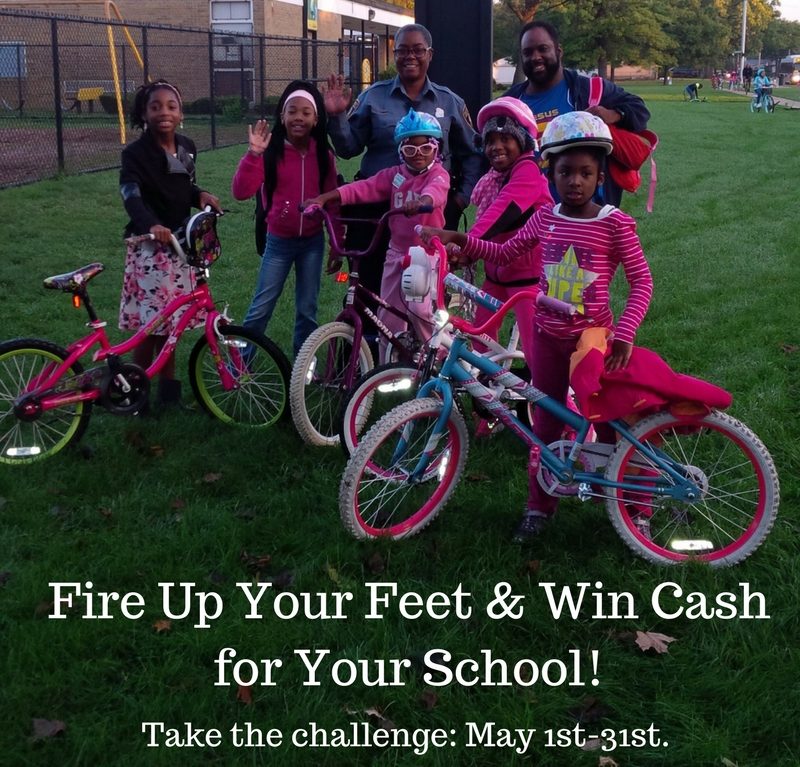 We are pleased to announce an exciting incentive and fundraising opportunity for Michigan communities! Fire Up Your Feet (FUYF) is a core program of the Safe Routes to School National Partnership, aimed at elementary and middle school students in the K-8th grades. FUYF offers free resources, an online activity tracker, a school fundraising organizer, and more, all meant to increase physical activity before, during, and after school for students, families, teachers, and staff.
Here in Michigan, schools can join the FUYF challenge between May 1st through 31st for a chance to win one of five local awards sponsored by State Farm and the Michigan Department of Transportation. Awards include a $500 Bike to School Day award and a $500 Walk to School Day Award given to the school with the most number of tracked participants. Schools can also compete for a series of National awards, including a specialized water bottle award, a safe playground award, and more.
Centered around the school day, the FUYF website provides a full range of appropriate resources and educational materials to assist with the development of an engaged FUYF program. Any school or PTA in the country can access resources, and the activity tracker provides communities with a healthy, easy choice for fundraising.  Want to inspire your community to work together to be more active and make a big difference in your school? Register for the FUYF program today and start moving and tracking!