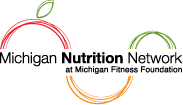 Are you a community member, educator, or city official looking to build a sustainable health or physical activity program? Choices is a conference celebrating food, health, and collaboration featuring inspiring keynotes, diverse breakout sessions, and networking opportunities for people working with low income populations. Organized by the Michigan Nutrition Network, Choices 2017 is being held at the Kalamazoo Radisson Hotel in Kalamazoo, Michigan on March 23rd-24th. Sessions include chocolate tastings, a spotlight on Black chefs in the culinary world, coaching strategies, and much more.
In fact, on Friday, the Safe Routes to School (SRTS) Michigan team will be presenting a hands-on workshop called "The ABC's of Safe Routes to School." Imagine this win-win situation: what if you could help young people to concentrate and learn better in school, while developing life-long healthy habits, and simultaneously improve safety and air quality while reducing traffic around schools? Join us for an interactive session that explores the SRTS planning process and provides tangible resources and skills to take home and share. So wear your walking shoes and come join us!
Check out the Choices agenda for a full list of session. For more information and to register visit here.