Countdown to Walk & Roll to School Day 2023!
National Walk & Roll to School Day (WR2SD) is an international event celebrated each October. Started in 1997 by the Partnership for a Walkable America, WR2SD has grown to an international event that takes place in over 40 countries worldwide. Michigan is once again joining states across the nation and countries across the globe on Wednesday, October 4 to promote walking and rolling to school.
The 27th annual WR2SD event is being promoted in Michigan by Safe Routes to School (SRTS) at Michigan Fitness Foundation (MFF), a federally legislated program administered by Michigan Department of Transportation (MDOT).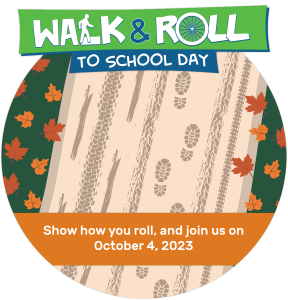 SRTS programs are designed to make it safe, convenient, and fun for children and their families to walk, roll, and bike to school. As a component of SRTS programming, the event emphasizes the importance of pedestrian safety, traffic congestion, and concern for the environment. When routes are safe, walking, rolling, or biking to and from school is an easy way to commute and get the regular physical activity children need for good health. Safe Routes to School initiatives help ease traffic jams, reduce air pollution, and unite neighborhoods.
Every school or community can engage in a wide range of activities on WR2SD, such as recognizing local champions or school groups during the event. The event also offers an opportunity to bring students, parents, and school staff together with the larger community and community stakeholders. The MFF SRTS team recommends inviting elected officials, city officials, active transportation enthusiasts, and other organizations to join the event to build awareness and encourage more walkable, bikeable, and accessible spaces for all.
Last year, over 178 Michigan schools registered for the event. Schools that register for the event also receive planning assistance from MFF SRTS program staff. Schools must register by Friday, September 15 in order to receive event materials and stickers.
To register, visit https://saferoutesmichigan.org/walk-roll-to-school-day-registration/
To see if your school has registered for the event, search here.
Interested in joining the fun again or for the first time? You can participate anytime during the year, you don't need a special day! BUT – if you'd like to participate in Walk to School Day 2019, it will take place on October 2nd, 2019.
The 2019 Walk to School Day Theme is "Take a Walk on the Wild Side"!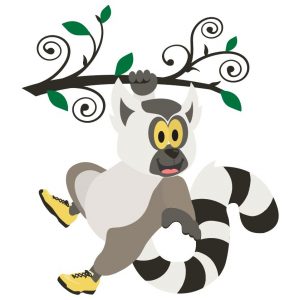 Visit the official Walk/Bike to School website for many more resources, including event ideas, planning tips, templates for flyers and press releases, talking points, and more.
For questions about the event, email Safe Routes to School Program Coordinator Adam Jenks or call 517-908-3816.