History of SRTS in Michigan
Over the course of 38 years there was a cultural shift in the number of students who walked and biked to school. In 1969, roughly 48 percent of students walked to school, and by 2007 only 12 percent of students walked having shifted to being driven. There are several reasons for this sharp decline. For one, the journey between home and school has become longer and more treacherous because of decades of auto-oriented development. This pattern has been compounded by the trend toward building new schools far away from residential areas. Then, too, there are the fears and concerns of parents exposing students to threats from strangers and motor vehicles. And finally, in many communities sidewalks, crosswalks, and trails are either missing or inadequate.
To address these changes, in 2003 the Michigan Department of Transportation, through the Federal Highway Administration Transportation Enhancement Program, funded a two-year state Safe Routes to School pilot project which, was administered by the Michigan Fitness Foundation. The purpose of the project was to develop materials and procedures to help Michigan elementary schools begin and sustain SRTS initiatives.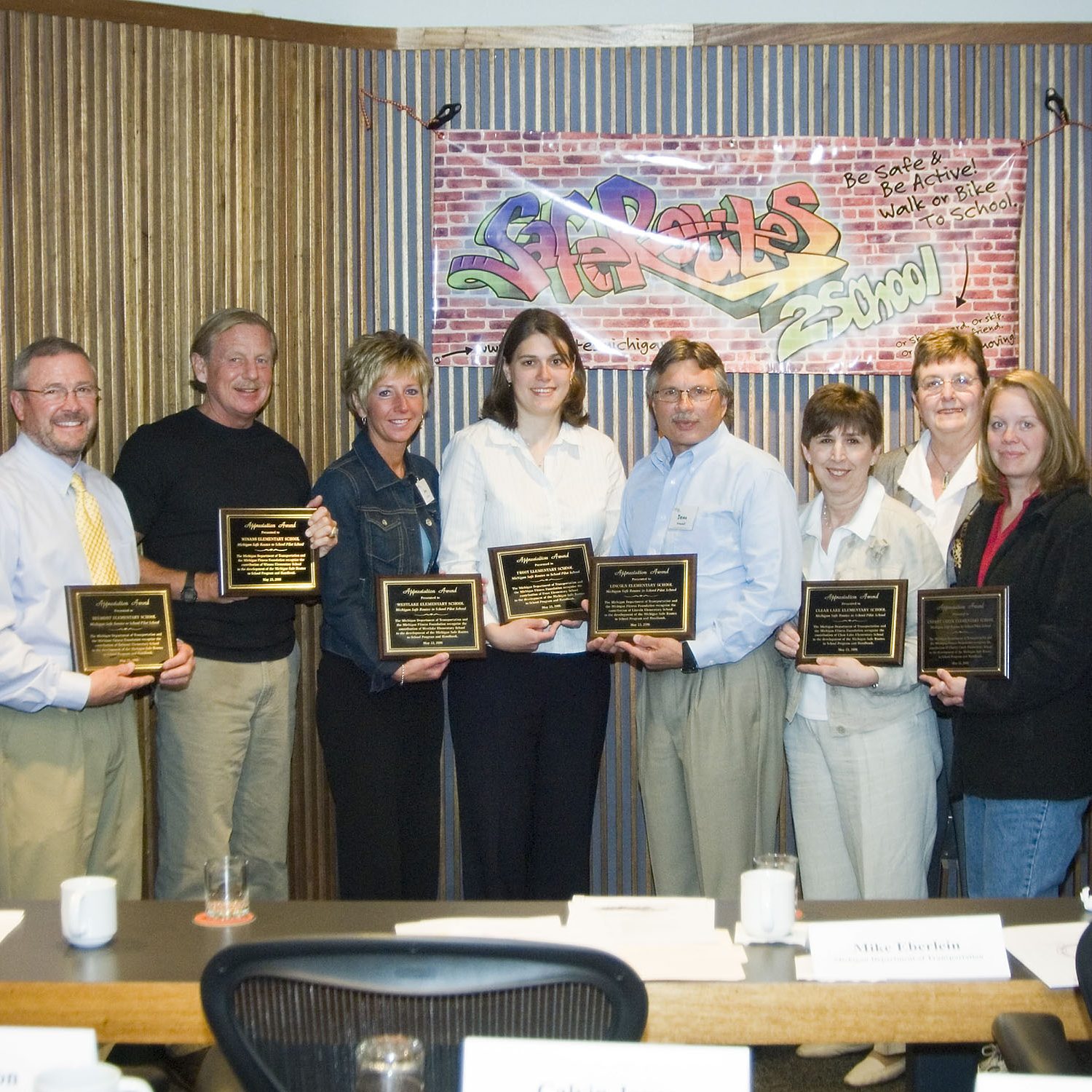 Pilot program accomplishments include:
Forming an active, multi-disciplinary state coalition of more than 25 agencies, departments, non-profits, for-profits and elementary school representatives;
Forming 11 pilot elementary school/community SRTS teams (rural/urban/suburban and low-income), which have continued their programs past the two year pilot effort;
Developing and administering surveys to learn parent and student attitudes, beliefs, and behaviors;
Developing Michigan's SRTS logo and social marketing material;
Producing a comprehensive, user-friendly Handbook and locally customizable materials;
SRTS training program for school and community stakeholders with a training curriculum which parallels the Handbook.
Since the pilot program, SRTS has continued to thrive under the following transportation bills:
A list of past funded SRTS projects is available on request. Please contact Colleen Synk for details.