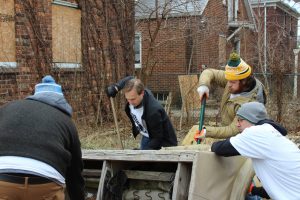 "Everybody can be great…because anybody can serve. You don't have to have a college degree to serve. You don't have to make your subject and verb agree to serve. You only need a heart full of grace. A soul generated by love."  –Martin Luther King Jr.
This month proudly spotlights the Detroit AmeriCorps Urban Safety Program (AmUS), which aides in Safe Routes to School initiatives in Detroit by facilitating a series of Board-Up Days near schools around the city. The AmUS program is hosted through Wayne State University's Urban Studies program and is designed to build a culture of neighborly communication and responsibility. Board-Up Days are when groups of volunteers target certain abandoned houses and clean up the yard, dispose of trash, and then apply boards and paint to broken windows and entry ways to make it safer and more aesthetically pleasing for residents. Board-Ups increase safety of students by not allowing for an easy target for predators and unwanted after school activities to be so accessible.  Also, it gets more people willing to walk and look out for the kids that are walking.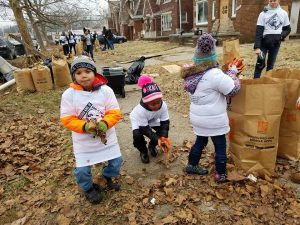 Board-Up locations and blocks are chosen during Precinct CompStat meetings, where crime "hot spots" are identified. When schools are in these "hot spots" they are made a priority. Not only does AmUs facilitate board-ups in a "hot spot" area, but they then make it a priority to start a block club/community patrol in the area to help reduce crime. These measures ensure that residents come together for a common goal, so they can build relationships with each other and hopefully continue to have events like these of their own.
In January, SRTS Grants Manager Katie Alexander, and Operations Coordinator, Mariama Lockington had a chance to participate in the Martin Luther King "Day of Service" Board-Up at Communications & Media Arts (CMA) high school. They were joined by over 300 other volunteers, including folks from DPD, Edison Elementary School, CMA High School, Grandmont Rosedale Development Corporation, Rosedale Park/Grandmont residents, local churches, Lt Governor, lots of residents and multiple student groups/organizations from Wayne State University.  After a long morning of  pulling weeds, fillings trash bags, trimming over grown trees and hedges, sawing, nailing, and painting, the block was looking ten times better.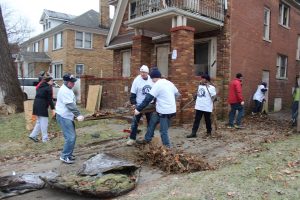 When asked about why this work is important, Americrops member and project organizer, BreAnna Lockhart said: "because it facilitates residents being able to see that other residents and outside entities care about their neighborhood. Events like this knit communities to be extremely close — getting their hands dirty and making a physical difference. The kids from CMA high school personally painted the boards that are right across the street from the school they attend every day. That visual reminder is the reason I get texts from the students to this day to volunteer again for their community! It's very exciting for them!"
We couldn't agree more. Participating in a Board-Up Day is rewarding, fun, and inspiring, and it makes routes much more accessible and safe for students walking and biking to school. Want to get involved and make a difference? Remember MLKs words, "anybody can serve… You only need a heart full of grace. A soul generated by love." AmUS is hosting its next Board-Up Day in honor of Global Youth Service Day on April 21st! The Board-Up will target routes surrounding Priest Elementary School. For more information and to sign up to volunteer, visit here!