On May 10th, students around the country celebrated International Bike to School Day. Here in Michigan, over 250 schools participated, making it Michigan's most successful year yet. All over the state, students strapped on their helmets, checked the air in their tires, and got ready to walk, roll, and ride to school. The SRTS Michigan staff had a chance to go out and participate in some of the events, and boy was it fun. Here are a couple highlights from the day:
Holt, Michigan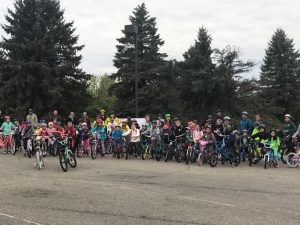 Students from Horizon Elementary and Washington Woods Middle School met at a nearby golf course before their group ride to school. Sustained with donut holes and fruit, students proudly donned their helmets and got ready to ride! One student, still on training wheels, was so excited to ride that she insisted to her parents that even though she was nervous, she had to participate in Bike to School Day. As the group pulled out, she made the trip slowly but surely, determined to finish. And finish she did, with smiles on her face the whole time. Congrats to the Horizon and Washington Woods students for being so dedicated to walking and biking!
Vassar, Michigan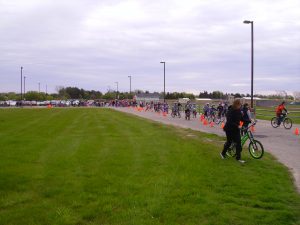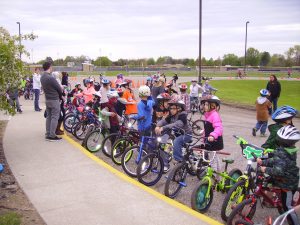 Over 600 hundred students in Vassar, Michigan participated in a district-wide Bike to School Day! Students from Central Elementary, Vassar Middle School, Vassar High, and even Townsend North Preschool joined the fun. Students were joined by 66 adult volunteers, who helped coordinate and make the day a success. Everywhere you looked, people were biking, walking, smiling, and cheering one another on. Once students arrived at school, they participated in a Bike Parade or Bike Rodeo. The preschool students even got a chance to practice their bike skills in "Safety Town" where they practiced balancing and learned important road and safety rules. A big cheer to Vassar for pulling of a outstanding community-wide event!
Bike to School Day/ACES Poster Winners
This year there were three outstanding entrees for the ACES/Bike to School Day Poster contest. Students all over Michigan had the opportunity to create and original poster highlighting this year's theme: Bee Active, Bee Healthy. With over 45 entries received, these are the lucky winners! Winners will receive prizes that include a bike, bike helmet, reflective bike gear, and more. Congrats to Kalynn, Siya, and Austin! Boy do we love your creativity and vision.