Last month brought the 2018 Governor's Fitness Awards. A day where we recognize the amazing efforts across Michigan of people, organizations and communities. We were delighted to present a the Lifetime Service Tribute to Kirk L. Steudle, Director of the Michigan Department of Transportation,  for his dedication to improving Michigan's transportation infrastructure for all users.
Starting his career at MDOT in 1987 as an engineer trainee, Kirk quickly rose his way through the ranks, and was appointed as the Director of MDOT in 2011. During his tenure as Director, Steudle has been an avid supporter and promoter of trail systems, sidewalk systems, and safety projects for pedestrians and cyclists across the state of Michigan.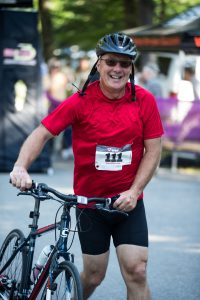 His leadership at MDOT has changed the trajectory of the Transportation Alternatives Program, which has led to more robust state-wide trail systems; as Director, he has helped created a substantial increase in the Safe Routes to School program.
The Michigan Fitness Foundation and The Governor's Council on Physical Fitness, Health and Sports would like to commend Director Steudle for his leadership, commitment, and perseverance in creating safe transportation modes for all users.