Halloween is an exciting holiday for all of us- from picking costumes to getting dressed up to trick-or-treating in the neighborhood.
Make sure the Halloween events and festivities safe and stress-free with these safety tips.
Costume Selection
Select costumes that are bright and reflective.
Consider wearing reflectors or lights, adding reflective tape or striping to costumes, and using reflective Trick-or Treat bags for increased visibility.
Choose face paint instead of masks, which can obstruct vision.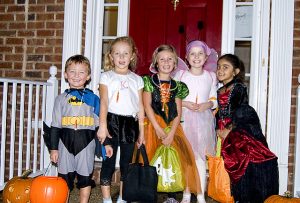 While Trick-or-Treating
Have kids walk with a group and join kids under the age of 12 for trick-or-treating.
Always walk on sidewalks or paths. If there are none, walk facing traffic as far to the left as possible.
Walk on direct routes with fewer crossings. When needing to cross, do so at corners, using traffic signals and crosswalks.
Watch for cars turning or backing up. Teach children to make eye contact with drivers before crossing in front of them and to never dart out into the street between parked cars.
Driving Safely on Halloween
Slow down and take extra time to look for kids at intersections, on medians and on curbs.
Get rid of distractions and be alert in residential neighborhoods. Excited children may move in unpredictable ways.
Enter and exit driveways, alleys, and parking lots with care.
Turn your headlights on earlier in the day to spot children from greater distances.
Have fun and stay safe trick-or-treating!!!