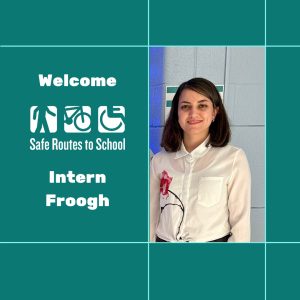 This month we welcomed Froogh Sadry to our team as the Safe Routes to School Intern. She recently graduated with a Master of Public Health from Wayne State University. Before joining us, she was serving her community as a Michigan Fitness Foundation  AmeriCorps Safe Routes to Health member at Corewell Health System. She is passionate about healthy equity, especially when she has the opportunity to help people live healthier lives.
Through her internship, Froogh looks forward to learning how the work of Safe Routes to School contributes to improving the quality of local parks, trails, roads, and sidewalks to help children be safe and more physically active on their school commute. She believes that Michigan Fitness Foundation is the best place for her to explore her interests. 
In her free time, Froogh enjoys spending quality time with her family and kids, walking outdoors, watching her favorite TV shows, gardening and enjoying the blooms from her flowers in the summer.