Once you have completed your surveys, and conducted your walking and biking audit, you are ready to start the action planning process. The Action Plan is meant to help you identify the key steps in creating a successful culture of walking and biking among your students. It's where you take your vision for the project, and turn it into a reality by assigning roles, identifying priorities, and establishing a timeline. The action planning process should be guided by your survey and walking audit data, and incorporate the 6 Es. The Action Plan is the last step in the SRTS planning process. Based on your results, you may decide to apply for funding to help implement your Action Plan.
How is the action plan completed?
Over the course of several short meetings or one longer meeting, your SRTS Core Team should meet to do the following:
Revisit the vision for safe routes to school (e.g. more students walking and bicycling on safe routes.)
Create a list of the barriers to walking and/or bicycling to school that were revealed in the surveys.
Develop a list of the high priority safety issues found during the walking and/or bicycling audit.
For each item on the lists, identify potential solutions. (Consider the 6 Es when developing your solutions:

engagement, equity, engineering, encouragement, education, and evaluation). Invite experts (

e.g.

 

engineers, educators, planners) to help recommend specific solutions.
Insert the recommended activities and projects into the action plan.
Prioritize the recommended activities and projects.
Complete other sections of the action plan.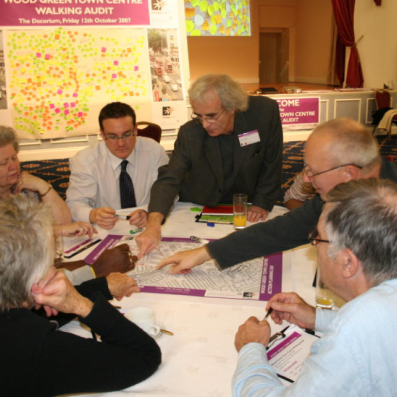 Ready to get started on this final step? Your SRTS Coordinator is always here to support you in the action planning process, and can be available to help co-lead and facilitate the meetings. Make sure to be in contact with your coordinator about meeting dates. You can also refer to this Action Plan Checklist, as well as download other helpful materials using the SRTS Handbook Module 6: Making Change With Action Planning.