Highland Township is a suburb of Metro Detroit with a distinctive rural character which the community has worked to preserve. This rural setting, and the community consensus to preserve it, presented its own set of strengths and challenges as Highland Township worked and applied for the SRTS grant in 2015 to incorporate more walking and biking routes for students of Heritage, Highland, and Spring Mills Elementary Schools.
A crucial aspect of the SRTS planning process is the opportunity for public engagement at various stages. Highland Township capitalized on these public engagement opportunities because the rural-like scale of the community made it easy to communicate information about and mobilize around the project. Highland Township went beyond their planning process to continue their public engagement through the application and beyond. The township shared the proposed improvements by broadly educating citizens about Act 51 Agency ownership of the road right-of-way and going to the areas of proposed improvements with project supervisors to talk with residents.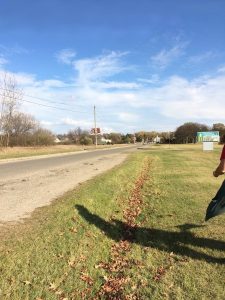 Jennifer Frederick, Assistant to the Charter Township of Highland Supervisor, said, "the conversations we had with residents helped us adjust certain segments of the design plans where there were resident concerns and requests. We were able to save a beloved Arborvitae shrub near a property which would have been removed in the initial plans and include some tree cutting work within the project which property owners desired."
A key challenge for Highland Township was the resistance to the project because residents would be responsible for the upkeep of new sidewalks, a point which was mentioned as a reason why some choose to live in the area. "The township knew of these concerns and planned ahead by helping residents find snow removal assistance if needed," said Frederick. "While there may have been some resistance, residents understand the benefits with students and other people safely walking in the area instead of in the street or having to cross M-59 in a dangerous way."
Program Impact:
This project created connectivity between each of the three schools and nearby neighborhoods. The project included an improvement to a goat path which showed prior use from a high density housing area to the back of Spring Mills Elementary via an existing walking trail on school property. Also, there was sidewalk infill and new sidewalks with key crossing improvements added along the front of Heritage and Highland Elementary schools' front properties which walkers have to access to make the final connection to school.
MDOT Project Impact Infrastructure Investment $330,900
SEMCOG infrastructure Investment $360,900
Non-Infrastructure Investment: $21,800
Total Investment $713,600
This project was made possible through the continuing collaborative efforts of the Highland Township, the Road Commission of Oakland County, Highland Community Schools, Michigan Fitness Foundation, Southeast Michigan Council of Governments (SEMCOG), and the Michigan Department of Transportation.