Detroit, the "Motor City", is known for the innovation of the automobile which is ingrained into mainstream culture. This, and much of Detroit's history, means different things to different people with wide variations based on where residents live and how they move through the city. The appreciation of Detroit's transportation history is especially true for walkers and bicyclists in the bustling city.
The Detroit Public School Community District (DPSCD) is familiar with how transportation impacts whether students can safely get to school. This motivated DPSCD to get involved with Safe Routes to School (SRTS) by selecting 10 schools to take part in the first of four planning and construction phases.
The planning process enabled the district to think expansively about what they could do to meet the needs of student safety and go above and beyond the federal funding for SRTS. Priscilla Morris, Senior Safety Specialist with DPSCD, says the broad groups of people who participated in the planning, contributed to discussions with their views and opinions, which were invaluable because it created a platform for DPSCD to have a stronger ear to what is affecting students.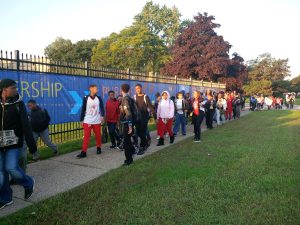 The planning for construction built more than sidewalks, but also relationships that have gone beyond the project's initial goal. "Now, when we need assistance, we know people we can call on at the City who are eager to help. We're able to strategically ask the right person to make changes promptly. These prompt changes apply to DPSCD internally as well," stated Douglas Gniewek, Senior Executive Director of DPSCD Risk Management.
Officer ReGina Hardy, DPSCD SRTS Program Coordinator, echoed the ability to respond more resiliently due to the SRTS program planning mitigating barriers to safety. "A factor of student safety is the boarded-up houses along walking routes," said Hardy. "The City Demolition Division supports our walking routes by expediting demolitions of any abandoned houses that cause a hazard to our students while getting to and from school. The City makes this a priority in their schedule."
"We're stronger because the process brought us to the table to discuss issues together. And the stronger we are, the better we are," said Morris. "It's creating more dialogue about what we all want the city to look like as it develops and changes."
Project Impact:
Created connectivity via sidewalk, lighting and signage improvements for 10 different schools.
Since 2017, The Michigan Safe Routes to School program has committed $2,131,450 in Phase 1 infrastructure and mini grant programming funds to support safe and active transportation for students in the City of Detroit. This project was made possible through the continuing collaborative efforts of Eyes and Ears Neighborhood Watch Volunteers (supported by the Brothers/Sisters on Patrol, Faithful Patrol, the MAN Network, and Northend Neighborhood Patrol), the Detroit Public School Community District (Superintendent's Office and Academic Leadership, Police Dpt, Risk Management), DPS Foundation (fiduciary), the City of Detroit (Dpt of Neighborhoods, Dpt of Public Works, Dpt of Transportation, Planning and Development Dpt), SEMCOG, The Michigan Fitness Foundation, and the Michigan Department of Transportation.
Mini Grant Investments $39,220
Phase 1 Total $2,092,230

Construction Engineering, Inspection and Testing: $262,465
Construction: $1,749,761
Non-Infrastructure Investment: $80,004