Motown, one of the affectionate nicknames of Detroit, is the birthplace of soul music, a style of music that has a flair of pop influence. It's a city with soul in more than just its music. Its people have it too. They have a sense of positivity, pride and strength in the face of outside forces. This character has been a huge asset to the Detroit Public School Community District's (DPSCD) Safe Routes to School (SRTS) program and the partnerships that make it successful.
With more than 100 facilities across the 142 square miles of Detroit, it was paramount to the SRTS team to reach as many schools as possible, maximizing the impact of each of the initial four planning and construction phases. Crash and crime data, alongside the schools a large infrastructure need in a 2-mile radius, informed the selection of 10 schools for each phase.
With engagement as a key component of the planning process, the SRTS team focused on getting buy-in not only from the administrative level, but the ground level. Douglas Gniewek, Senior Executive Director of DPSCD Risk Management, stated how "this project was a big deal for the parents and people in the community. Community members expressed to us during conversations and interactions on the walking audits that they were seeing that people cared about their community when they have long felt neglected or unheard."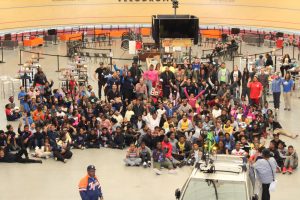 Officer ReGina Hardy, DPSCD SRTS Program Coordinator, noticed similar support and concerns.  "Whether it was a neighbor or corporate executive, everyone wanted to see the tradition of walking and biking to school revived again," said Hardy. "Parents, community organizations and business partners welcomed the infrastructure improvements, but acknowledged that student safety should remain a leading priority. We looked to our existing Eyes and Ears patrol groups who support citizens who aren't always comfortable making official reports to the police. These groups worked on their behalf to forward concerns (i.e. stray dogs, poor lighting, traffic management, etc.) to the District's Police Department for immediate response, which allowed us to be even more proactive."
Getting stakeholders engaged in the concept of SRTS and the planning process went smoothly for the group. Many people were working toward a similar goal without being asked or looking for anything in return. They became involved from a place of concern and wanting to make change happen. The difficult part was keeping the group motivated since it takes time to go from the start of the planning process to a constructed project. Officer Hardy said, "Getting to the end of construction for phase one is a major win for the City and DPSCD students, parents and staff. The gratitude we have for each other's part in the process and the love of working together made our partnerships easy. It was a pleasure to keep the momentum going to reach where we are now."
Project Impact:
Created connectivity via sidewalk, lighting and signage improvements for 10 different schools.
Since 2017, The Michigan Safe Routes to School program has committed $2,131,450 in Phase 1 infrastructure and mini grant programming funds to support safe and active transportation for students in the City of Detroit. This project was made possible through the continuing collaborative efforts of Eyes and Ears Neighborhood Watch Volunteers (supported by the Brothers/Sisters on Patrol, Faithful Patrol, the MAN Network, and Northend Neighborhood Patrol), the Detroit Public School Community District (Superintendent's Office and Academic Leadership, Police Dpt, Risk Management), DPS Foundation (fiduciary), the City of Detroit (Dpt of Neighborhoods; Dpt of Public Works; Dpt of Transportation; Planning and Development Dpt), SEMCOG, The Michigan Fitness Foundation, and the Michigan Department of Transportation.
Mini Grant Investments $39,220
Phase 1 Total $2,092,230

Construction Engineering, Inspection and Testing: $262,465
Construction: $1,749,761
Non-Infrastructure Investment: $80,004