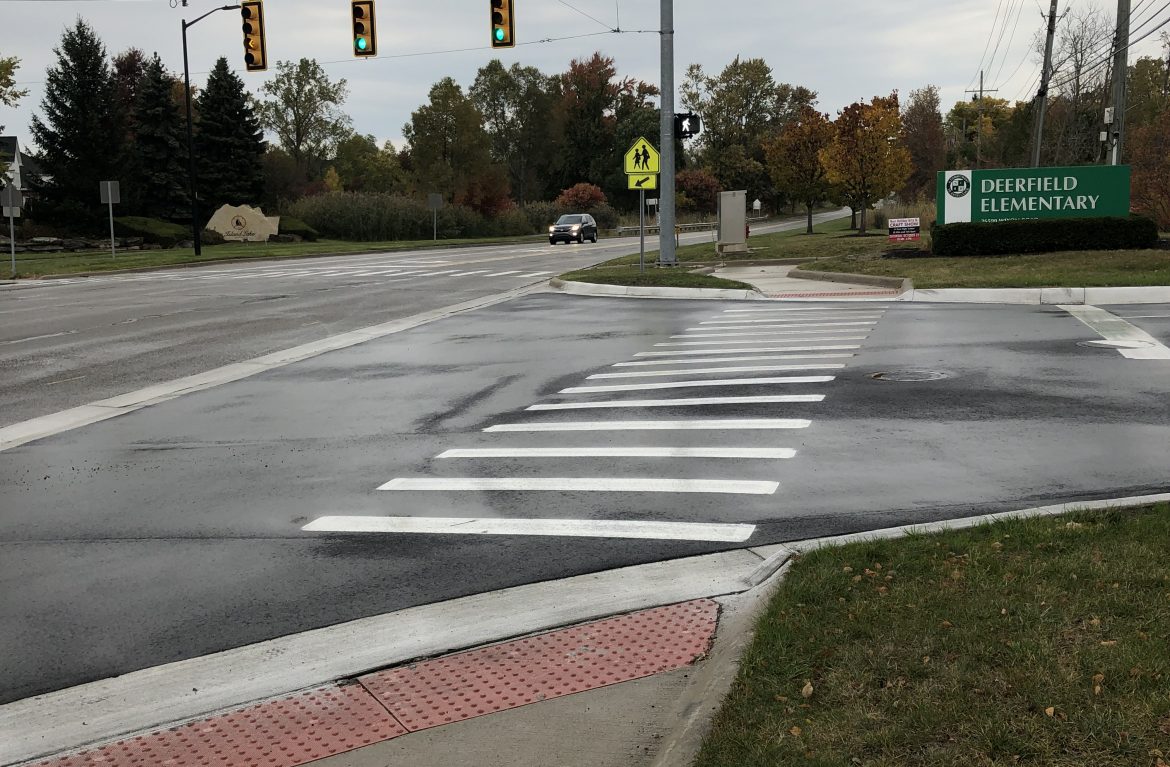 Novi is a bustling city about 30 miles northwest of Detroit. It is home to a unique mix of cultures, exemplified by places like its Hindu temple and Japanese grocery store. While many Michigan cities have struggled with population declines according to theU.S. Census, Novi has grown consistently and is now home to more than 66,000 people. While this growth is good news for the city, it comes with its share of issues, such as automobile traffic. With an eye towards the future, Novi is responding by placing greater emphasis on walkability and bikeability. In 2019, Novi pursued Safe Routes to School (SRTS) grant funding at six schools to transform Novi from auto–only to a place where parents feel increasingly comfortable letting their children walk, bike, and roll to school.
Novi officials first heard about SRTS through a project in Orion Township. After kicking around the idea between various local decision makers, they agreed to pursue a SRTS grant. But for the project to move forward, they needed to get the whole community on board. To introduce SRTS to the community, they conducted walking audits and held numerous meetings with local parents, community leaders, school principals, and other school staff.
Although the initial response was largely positive, a few residents expressed concerns over issues like tree removal, snow removal, and perceived property value declines. While one section of the grant proposal was eventually dropped, leaders fought hard to keep a section that would link two major streets in an area of significant student enrollment. Here, four of the Novi schools are set up in close proximity to one another, making these nonmotorized connections useful to students from each school.
The safety issues for the students were significant, with winding roads leading to visibility issues. If the project was going to have its greatest impact, these safety hazards needed to be addressed. To address the concerns of residents, Novi officials hosted around a dozen neighborhood meetings. As Orchard, Hiltz & McCliment Engineer Kim Klieber, who worked extensively on the project, stated: "We did give extra attention to accommodate residents when they had extra questions, or if they needed an extra meeting, we were there to answer all of their concerns—because there were a lot of them." After multiple meetings and conflict resolution efforts, many residents began warming up to the change. "We were able to find resolution and move forward with sidewalk construction," said Klieber.
With the new sidewalks in place, there are now pathways along the two main roads.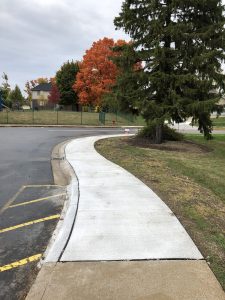 But that wasn't the full extent of the project. Other sidewalks were updated and ADA accessible ramps with truncated domes were built on numerous corners. These truncated domes are part of tactile paving, a system of textured ground surfaces that help visually impaired people navigate difficult terrain by cueing them to approaching hazards, such as street corners. The project also involved constructing sidewalks adjacent to school parking lots.
"This project has been something the city and schools needed but didn't know they needed when it all started. I think that the Safe Routes program helps the community see how they can continue to reduce barriers and build the community even more so than it already is," said Klieber. "Novi is already such a happening place to live.I think having a Safe Routes program offers something deeper because it improves the lives of the families that live there, the heart of the community, and that is meaningful. It starts with the kids."
Project Impact:
Novi officials accepted community feedback and removed certain portions of the project while moving forward with the sections most vital for safety. Ultimately, in areas where lack of sidewalks, high traffic volumes, and poor sight lines made for dangerous school travel, safe sidewalks and pathways now exist where both students and their parents can feel secure. The addition of ADA compliant ramps as well as sidewalks that lead past the school parking lot help make sure that all students are safe all the way to their classrooms.
MDOT Infrastructure Investment: $1,200,032.00
MDOT Non-infrastructure Investment: $56,000.00
This project was made possible through the continuing collaborative efforts of the Novi Community School District, City of Novi, Michigan Fitness Foundation, Michigan Department of Transportation, and the Federal Highway Administration.